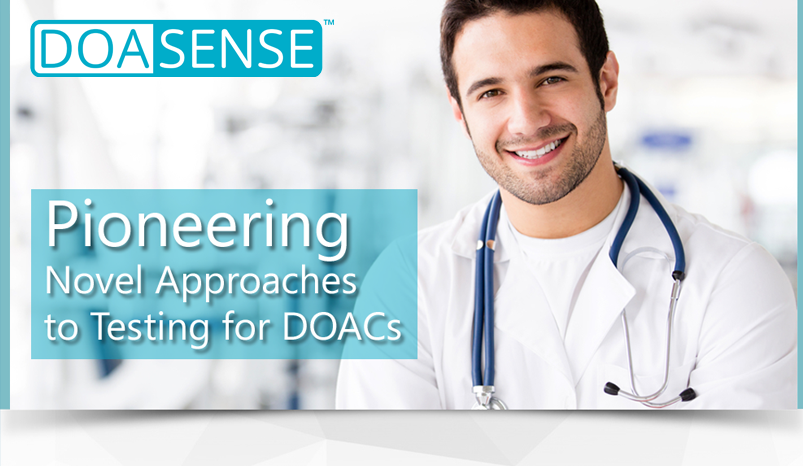 NEWS FLASH:

2018-11:

The

DOAC Dipstick

point-of-care test is

now commercially available in Germany through HITADO

[ORDER HERE]

/ Der

DOAC Dipstick

Point-of-Care-Test ist

nun in Deutschland über HITADO erhältlich

[BESTELLEN SIE HIER]
2018-08:

Meet us in Munich during the

ESC 2018

at

booth # G620

.

And please also visit the websites of

Thrombosis UK

, which recently

featured

latest data on

our DOAC Dipstick test

[Link]
2018-07:

We are getting ready for

ISTH-SSC

. Please visit us in Dublin at booth # H2

.
2018-05:

The

International Council for Standardization in Haematology

(ICSH) has

included DOASENSE's DOAC Dipstick

test in its 2018

Recommendations for Laboratory Measurement of Direct Oral Anticoagulants

[ICSH Guidelines]
2018-04:

We have started the

controlled launch

of our DOAC Dipstick test

with select clinics in Germany.
2018-03:

Join

us at

these upcoming conferences and trade shows, where DOASENSE will be present with a booth:

DGK 2018

, Mannheim (Germany) - April 4-7 - Annual Meeting of the German Cardiac Society

ISTH-SSC 2018

, Dublin (Ireland) - July 18-21 - SSC Meeting of the International Society of Thrombosis and Haemostasis
ESC 2018

, Munich (Germany) - August 25-29 - Congress of the

European Society of Cardiology
2018-02:

DOASENSE's

exhibit at

the 62nd Annual Meeting of the Society of Thrombosis and Hemostasis Research

(

GTH 2018

) in Vienna

received broad interest

from the attending community





2018-01:

Our patented

DOAC Dipstick

product was

CE marked

according to European Directive 98/79/EC (IVDD)
2017-12:

The Quality Management System of DOASENSE GmbH has been

certified by LRQA

in accordance with

ISO 13485:2016

[Certificate of Approval]
2017-08:

DOASENSE press release on presentation of

first-ever Point-of-Care urine test for Direct Oral Anticoagulants

(DOACs)

[Read more]
2017-07:

DOASENSE is proud

BRONZE SPONSOR

of the

ISTH 2017

in Berlin
When every minute counts … fast DOAC testing matters.

DOASENSE's mission objective is changing the landscape of testing for DOACs (new synthetic oral anticoagulants) with novel and quick point-of-care urine tests
The determination of DOACs has long been limited to blood sampling approaches, with all their potential limitations, and a
rapid assessment of the anticoagulant effect of non-vitamin K antagonist oral anticoagulants (Direct Oral AntiCoagulants – DOACs) by point-of-care testing (POCT) so far has been an unmet clinical need.
DOASENSE develops products for specific testing for DOACs
in urine
Tests which are
easy to use and e
asy to interpret,
reproducible, and
patient friendly
Listen to what opinion leaders think about DOASENSE's solutions:
Typical clinical scenarios where testing for specific DOACs can be of value
Stroke (e.g. before thrombolytic therapy)

Trauma

Emergency procedures

Evaluating for venous thromboembolism

Spontaneous hemorrhage

General surgery or invasive procedures

Other situations where medication history may not available
In each of these situations the objective is establishing the absence of DOACs in the patient prior to procedure

NOTE: DOASENSE(TM) products may not be available or approved in your country.